5 Hacks To Get More Carpet Cleaning Clients During Slow Periods
If you want to get more carpet cleaning clients, but you're not sure how then this article can help.
It tells you simple strategies you can use immediately to get more carpet cleaning clients. So you never have to worry about 'slow periods' again.
Here are the hacks.
Hack#1 – Approach Your Commercial Account Employees
Your commercial accounts have employees who need carpet or upholstery cleaning. And you can use this fact to fill up your booking slots for weeks in advance.
Print up a '$30 gift card' with an expiry date. Give your commercial clients one gift card for each employee. Your clients can then give these gift cards to workers as a special bonus.
It's a win-win situation.
Your commercial clients look generous to their employees. Their employees save money. You get more carpet cleaning clients for minimal effort.
It's a better option than chasing cold prospects because already have one foot in the door. And you can win dozens of jobs for the cost of a printing a few gift cards.
Hack#2 – Reach Out To Old Clients Without Looking Desperate
Another great hack is to reach out to lapsed clients with a 'reason why' phone call. A 'reason why' call is when you contact a client with a valid 'excuse' prepared.
These calls are a great way to win back lost clients and get extra jobs without looking like you are chasing work.
Here's an example.
(You) Hi Mr Smith. It's Chris here from Acme Carpet Cleaning. Am I calling at a good time?
(Wait For Response)
(You) I cleaned your carpet a few months ago. I'm calling today because mould can be a big problem with carpet at the moment. So I offer my clients a free mould inspection. I am in your area on Monday if you want me to have a look.
The 'reason why' in this case is mould. But you can use anything as long as it's true.
It can feel like begging for work when you call clients without a 'reason why'. Sales calls come across as needy and lower your value in the client's eyes.
But by using a valid 'reason why', you can call clients and win more jobs without feeling like a used-car salesman.
Hack#3 – Offer Different Pricing Levels
One of the oldest tricks in sales is to offer carpet cleaning clients tiered pricing options. Tiered pricing means providing your service at different price points.
For example, an 'as-needed' price, a 'stay clean' price, and 'premium' price. At each level, you would clean at a different frequency.
Tiered pricing like this offers many benefits.
It makes you more money. Carpet cleaning clients will pay to the limit they can afford. If a client is willing to pay $150 a room and your service costs $100 per room, you are leaving $50 on the table.
It casts a wider net for clients. If you offer an economy service, think about how many more clients you can bring in the door. Lower priced services are a gateway for carpet cleaning clients. These clients may graduate to higher-priced services.
It's easier to offer one service at many price points than many different ones.
It stops prospects going to competitors. No matter how well you market your business, prospects will price shop. It's unavoidable. By giving a choice of pricing tiers, you can prevent people from shopping around.
It increases the value of your premium offering. Carpet cleaning clients want to know that they are getting good value. When they choose the pricing tier themselves, they can justify spending more money.
Without tiered pricing, you are losing potential clients who could become big buyers. But using this technique helps you to make the most money from every job.
Hack#4 – Get Carpet Store Referrals
Carpet stores are an excellent source of referrals for new clients.
People clean their carpets more often after installation. It's only natural to try to keep the carpet looking new. You can ask carpet store cleaners to recommend you for cleaning after the sale.
Of course, you need to give the store owner an incentive to make the referral.
For example, offer to clean the store owners carpet free or buy him a crate of beer.
But a better way is to partner up. Allow the store owner to give a 12-month warranty with new carpets. This makes him or her looks good and it gives you a great reason to contact prospects when the warranty period ends.
Hack #5 – Use SMS Marketing To Reactivate Clients
SMS marketing is a great medium to win more work from existing clients.
It's a low-cost, high-return way to convey content or offers to the customer. And it has an incredible open rate of as much as 98% within 3 minutes.
This response rate means that your message will almost always reach the client. So as long as you offer something compelling, you will be able to win extra work.
For instance, offer urgent deals to existing clients. A typical offer is '$XX Of Your Next Carpet Clean' when you respond in the next 15 minutes.
The world has gone mobile. As a carpet cleaner, you need to keep up and reach out to people in the best way.
SMS is one marketing tactic that will become more important in years to come.
Conclusion
As you can see, getting carpet cleaning clients during slow periods is possible.
You need the right strategies. But you can get started straight away. In fact, you can have a job booked a few hours from now.
Many carpet cleaners feel stuck and hopeless when work dries up. From today you don't' have to be one of them.
Use the 5 hacks above now and start winning more carpet cleaning jobs today.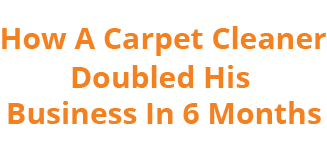 We do not SPAM. Your privacy is protected.
Rating and Reviews

STEAMASTER Australia


Reviewed by Mark Symons on
.
STEAMASTER Australia

Steamaster is fantastic. Bought a big kit from them as a small business, works great. They are very knowledgeable, quick to fix any problems and have solution. Special thanks to Duy, quick replys and answers about products and equipments.



Rating: 5