Product Description
Rotovac 360i for sale – Rotovac 360i Triple Jet Carpet Cleaning Rotary Extraction Powerhead for sale at the Best price in Australia

Why is the Rotovac 360i better than a manual wand?
The manual scrub wand is a good cleaning tool for cleaning lightly soiled carpet. When cleaning more heavily soiled carpet, the wand becomes a "beast of burden." Cleaning results depend upon the strength, stamina, and technique of the person working the wand. Cleaning heavily soiled carpets with a scrub wand is "hard labor." The repetitive motion of scrubbing back and forth is extremely strenuous and fatiguing.

First and foremost the Rotovac 360i is an electric power tool. Comparing the Rotovac to a wand is like comparing a skill saw to a hand saw. We have converted a back and forth manual task to a much easier and more efficient rotary mechanized operation.

The Rotovac 360i makes more cleaning passes per minute than is possible with a manual scrub wand. In addition, the cleaning passes are from all directions rather than just back and forth. This is what produces better cleaning results with far less operator fatigue.

The counter-rotating cleaning heads of the Rotovac allow it to glide back and forth over the carpet with an easy one-handed operation, very similar to using an upright vacuum cleaner.
How will the Rotovac 360i help me increase my profits?
The Rotovac 360i is more than a great cleaning tool – it's also a fantastic marketing tool! When your customers see how much cleaner their carpets get with the Rotovac, you will notice a dramatic increase in your referrals and repeat business. For obtaining new accounts, a quick demo with the Rotovac 360i is a highly effective way to close the deal. The Rotovac 360i can separate you from your competition. After all, everyone has seen the old manual scrub wand. With the Rotovac 360i you can show your customers that you have the latest state-of-the-art equipment and then back it up with a cleaning performance that will make you look like a hero.
Why is the Rotovac 360i easier to use than a manual wand?
The Rotovac 360i is much easier to use than a manual wand. When cleaning with a wand your cleaning results depend on how much elbow grease you're willing or able to put into it. Hunched over while scrubbing back and forth with a wand is definitely hard labor and can lead to extreme fatigue and/or physical ailments. The Rotovac 360i allows the operator to stand in an upright position and guide the power tool up and back in an easy one handed motion, very similar to running an upright vacuum cleaner.
How fast does the Rotovac 360i clean?
The Rotovac 360i is designed for restorative carpet cleaning of medium to heavily soiled carpet conditions. Based on doing the highest quality cleaning of heavily soiled carpet. The Rotovac 360i will clean at a rate of approximately 500-600 square feet per hour.
How much maintenance does the Rotovac 360i require?
The Rotovac 360i is a very low maintenance machine. The primary maintenance for the Rotovac is only to keep the machine clean. The stainless steel cleaning heads are removable for easy cleaning and access to the vacuum ports to clean out any possible debris or clogs.
What is the warranty for the Rotovac 360i?
The Rotovac 360i has a full one year warranty against manufacturers defects which covers both parts and labor on every component of the machine. See our warranty page for full details.
Is the Rotovac 360i built to last?
The Rotovac's heads are constructed from solid cast stainless steel. These heads are virtually indestructible and show little or no wear even after 5 years of usage. The Rotovac's motor/gearbox housings are die-cast aluminum with all cartridge bearing construction and contain heat treated steel drive gears for years of everyday use. The frame is solid cast aluminum. All components on the Rotovac 360i are replaceable or rebuildable.

Rotovac 360i Triple Jet Carpet Rotary Extraction Powerhead

The Rotovac 360i is Rotary Extraction Power Head that utilizes rotary vacuum heads to thoroughly deep clean carpet with hundreds of multi-directional cleaning passes. The 360i weighs only 18 kg and is extremely easy to use as it operates in a self propelled side to side motion.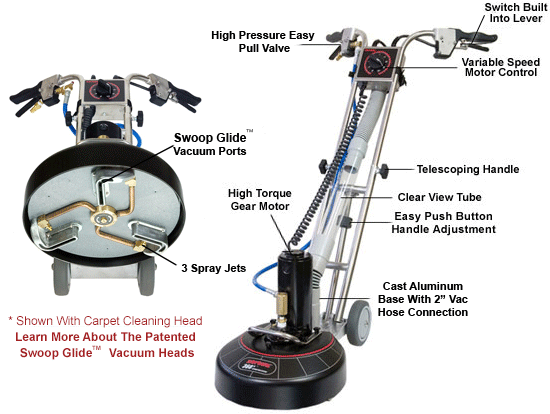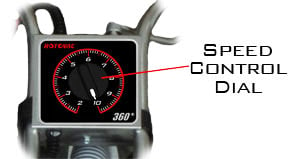 The 360i is equipped with a variable head speed control dial on the handle to allow the operator to adjust the head speed from 0 to 250 RPM.This feature allows the 360i to adapt to all carpets from direct commercial glue downs to plush installed over pad residential carpeting. Glue down carpet may require a slower head speed for smooth operation and maximum recovery while pad plush carpeting may need a faster head speed for best results.