How To Sell Carpet Cleaning Services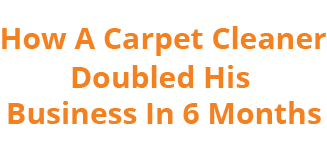 We do not SPAM. Your privacy is protected.
How To Sell Carpet Cleaning Services
Col: When we talk about marketing, there's a lot of different aspects to it but one really important aspect to it is think about where you live and market to that area. Now, I've seen guys advertise, we do all suburbs and they'll get a whole heap of calls and they'll be driving all over. Now, if you've been in Sydney and you're driving around Sydney, it can take you hours to get anywhere. That's a lot of lost production time but if you advertise one particular suburb and maybe Cabramatta and surrounding suburbs, there's an example, you will get the same number of calls but they'll all be in that local area, right near where you live.
When you finished a job or you get a phone call during the day and the customer says, "Oh, how much is it going to cost to get my carpet cleaned?" you say, "Where about are you?" "Oh, I'm in Cabramatta." "Look. I live in Cabramatta so on my way home tonight, I'll pop in and I'll measure all the carpet. I'll have a look and see exactly what your carpet needs done. I'll give you a proper written quote and then, if you want to go ahead with the job, we'll book it in after about sometime. It's cost you nothing for a quote. I'll just do it on the way home. Does that sound fair?"
Tom: That's very good. That's great customer management, I must say.
Col: Now, I did this all the time when I started in my business. I don't do it so much now. I don't have to but when I first started in my business, whenever I got a quoting, yep, I'd go out and do that quote and 90% or more of those quotes that I gave, I got.
Tom: Good tip.
Col: I'm telling you, good plain jobs.
Tom: If you think about staying local because people know you there already, you don't have too far to drive and it's very easy for you to get to another job or quote another job without losing too much time in your day. That's smart.
Col: Yeah. Do your quotes of an afternoon or in the evening. During the day, you can be cleaning carpet and then on the way home, yeah, I'll go and do a quote. Do a quote and you'll get that job. I'll give you an example of this. I did a quote for a lady and gave her the price and she said, "Oh, okay," and didn't book it in. It was nearly nine months later that she actually rang up to book it in and this is what she said to me. She said, "You gave me a quote about nine months ago to actually clean my land suite. Now, I know it's going to cost a little bit more because things go up but I'd like it done now because I've saved up the money."
Tom: Really?
Col: Yeah.
Tom: Wow, she must have really enjoyed the experience of interacting with you then.
Col: Yeah. It was just a friendly little five-minute chat and had a look at the land suite and gave her the written quote for, gave it to her, walked away, didn't push it.
Tom: That's great. She decided, "No, if I'm going to get it cleaned, it's going to come from Col. I just don't have the money yet so when I'm ready, I'll give call to Col."
Col: Yeah. "He turned up on the job. He was prepared to give me a little bit of time. You didn't have two heads. He was a nice-looking guy."
Tom: Good tip.
Col: See. That's good. That's a good story.
Col: Yeah.
How To Sell Carpet Cleaning Services
Rating and Reviews

STEAMASTER Australia


Reviewed by Mark Symons on
.
STEAMASTER Australia

Steamaster is fantastic. Bought a big kit from them as a small business, works great. They are very knowledgeable, quick to fix any problems and have solution. Special thanks to Duy, quick replys and answers about products and equipments.



Rating: 5
Start your carpet cleaning service company – If you're looking to start your carpet cleaning business, tile and grout cleaning business, or upholstery cleaning business in Sydney, Melbourne, Brisbane, Perth, Adelaide, Gold Coast, Sunshine Coast, Moreton Bay, Canberra, Darwin, Hobart, Launceston, Newcastle, Central Coast,
Lake Macquarie,
Port Stephens, Wollongong, Albury, Wodonga, Geelong, Townsville, Cairns, Tweed Heads, Bendigo, Toowoomba, Rockingham, Alice Springs, Albany, Armidale, Bacchus Marsh, Ballina, Ballarat, Batemans Bay, Bathurst, Broken Hill, Broome, Bunbury, Bundaberg, Burnie, Busselton, Cessnock, Coffs Harbour, Dalby, Devonport, Dubbo, Emerald,
Forster, Tuncurry,
Gawler, Geraldton, Gladstone, Griffith, Grafton, Goulburn, Gympie, Hervey Bay, Horsham, Kalgoorlie, Karratha, Kiama, Kwinana, Lara, Lismore, Lithgow, Mackay, Maryborough, Maitland, Mandurah, Melton, Mildura, Mount Isa, Mount Gambier, Nambour, Nowra, Ocean Grove, Orange, Pakenham, Palmerston, Port Augusta, Port Hedland, Port Lincoln, Port Macquarie, Port Pirie, Queanbeyan, Rockhampton, Shepparton, Singleton, Sunbury, Tamworth, Taree, Torquay, Traralgon, Wagga Wagga, Wangaratta, Warrnambool, Warwick, Whyalla, Yeppoon and other regional areas of Australia, call us on 1300 855 677 for Best Advice! Visit our blog for advice on How to get more carpet cleaning customers, how to increase my carpet cleaning business, how to market a new carpet cleaning business, how to increase carpet cleaning sales, how to get more carpet cleaning customers, how to get more carpet cleaning jobs, how to get more carpet cleaning business, how to make more money carpet cleaning.