How To Get More Clients From Vehicle Advertising…
How To Get More Clients From Your Vehicle Advertising
The Simple Tweak That Virtually Guarantees
Clients Will Call You Instead Of The Competition
Let me explain…
As you probably know, most carpet cleaners and pressure cleaners advertise their business on the vehicles.
This advertising normally states the Company Name, A Contact Number and sometimes a Tag Line…
E.g. Bob's Carpet Cleaning – Call 042222222 – Cleaner Carpets And Good Service
The problem is that this is boring. Everyone does it and there is no reason for clients to contact you instead of any other cleaner.
So what's the solution?
The solution is to position yourself as more than just a carpet cleaner. For example, the advertising on your vehicle might read…
WARNING: Do NOT Hire A Carpet Cleaner Before You Visit This Website
BetterCarpetCleaning.com
(On the website you would offer useful information that can help people save time, money and headaches with their carpets.)
See what I've done here.
Instead of trying to push the sale, I offer useful information that people want.
This sets you apart from the competition because you are offering a valuable service.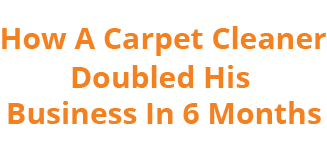 We do not SPAM. Your privacy is protected.
Rating and Reviews

STEAMASTER Australia


Reviewed by Mark Symons on
.
STEAMASTER Australia

Steamaster is fantastic. Bought a big kit from them as a small business, works great. They are very knowledgeable, quick to fix any problems and have solution. Special thanks to Duy, quick replys and answers about products and equipments.



Rating: 5