How to Clean a Dehumidifier: A Quick & Easy Guide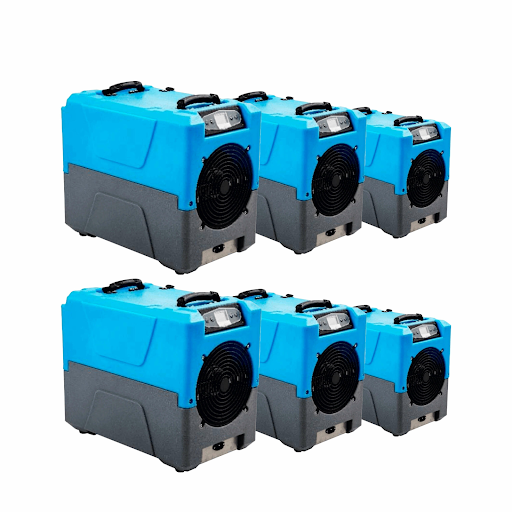 Using a dehumidifier in Brisbane? Or in Sydney? Or any other tropical place in Australia? To make the most out of a dehumidifier, it's important to keep it clean. Keep reading for an easy step-by-step process to clean your dehumidifier and keep it running at its best.
What is a Dehumidifier?
Before we dive into the cleaning process, let's briefly understand what a dehumidifier is and how it works. A dehumidifier is a water damage restoration equipment designed to reduce the humidity level in the air by pulling moisture from the surrounding environment. It achieves this through a cooling and condensation process. Available as a whole house or portable dehumidifier, the appliance takes in moist air, cools it to condense the moisture, and then collects water in a tank or reservoir. The dry air is then released back into the room. However, like any other appliance, a dehumidifier requires regular cleaning to ensure it continues working efficiently and doesn't become a breeding ground for mould spores and dust mites.
When Should You Clean a Dehumidifier?
Regularly cleaning your dehumidifier is crucial for two primary reasons. Firstly, a clean dehumidifier will operate efficiently, ensuring it effectively removes excess moisture from the air. Secondly, cleaning helps prevent the growth of mould and mildew, which can be harmful to your health.
It's a good idea to clean your dehumidifier at least once every two weeks, especially during periods of high humidity or when you're using it continuously. If you notice any unusual odours or if your dehumidifier isn't performing as well as it used to, it might be time for a thorough cleaning.
How to Clean a Dehumidifier?
Follow these simple steps to clean your dehumidifier properly and keep it in top-notch condition:
Turn Off and Unplug Your Machine
Before you begin the cleaning process, make sure to turn off your dehumidifier and unplug it from the power source. Safety should always be the first priority when handling any electrical appliance.
Start by wiping down the exterior of your dehumidifier with a soft cloth or sponge dipped in warm soapy water. Pay special attention to the air intake and outlet vents, as these are the areas that tend to accumulate dust and other allergens. Regularly cleaning the exterior helps maintain a fresh and clean appearance while ensuring proper airflow.
The air filter is a crucial component of your dehumidifier, as it traps dust, dirt, and other particles from the air before it reaches the coils. Most dehumidifiers have a washable and reusable air filter. To clean it, gently vacuum the filter to remove all the dust and debris. Alternatively, you can wash it with warm water and mild detergent. Make sure you let the filter dry completely before placing it back into the dehumidifier.
Remove and Empty the Dehumidifier Tank
Next, remove the water reservoir or tank from your dehumidifier. Depending on the model, the tank can be located either on the front or rear of the unit. Once removed, empty the water into a sink or drain. For dehumidifiers with a continuous drainage option, you can connect a hose to the outlet and direct the water to a drain.
Wash the Tank With Warm Water and Mild Detergent
Using warm soapy water and a soft, bristled brush, scrub the interior of the water reservoir to remove any residue or buildup. This will prevent mould and mildew from growing inside the tank. Rinse it thoroughly with clean water to remove any soap residue.
Scrub the Coils With a Cleaning Brush If You Can Access Them
If your dehumidifier allows easy access to its coils, use a cleaning brush to remove dust and dirt gently. Clean coils ensure efficient moisture removal and prevent the accumulation of debris that may hinder the dehumidifier's performance.
Reassemble Your Dehumidifier When the Parts Are Dry
After cleaning all the components, allow them to air dry completely before reassembling your dehumidifier. Make sure everything is dry to prevent mould growth and electrical issues. Refer to your user manual for specific instructions on how to properly reassemble your model.
How Long Does it Usually Take to Clean a Dehumidifier?
The time required to clean a dehumidifier can vary depending on the model and how thorough you want to be. On average, the cleaning process can take anywhere from 20 to 30 minutes. Regularly cleaning your dehumidifier will ensure that each cleaning session is quicker and more straightforward, as there will be less buildup to tackle.
Additional Tips for Cleaning a Dehumidifier Thoroughly
While the previous steps cover the essential cleaning process, here are some additional tips to ensure a thorough cleaning of your dehumidifier:
Paying Special Attention to the Water Reservoir
The water reservoir or tank is the part of the dehumidifier that collects the extracted moisture. Over time, minerals and deposits may accumulate inside the tank, leading to an unpleasant odour or reduced efficiency. To combat this, you can use a mixture of white vinegar and water to soak the tank. The acidic properties of white vinegar helps dissolve mineral deposits, leaving your tank fresh and clean. After soaking for a few hours, rinse the tank thoroughly with water before letting it dry completely.
Cleaning the Dehumidifier Bucket Filter
Some dehumidifiers have an additional reservoir bucket filter which helps prevent larger debris from entering the tank. Regularly cleaning or replacing this filter will ensure optimal performance. Remove the filter and clean it with warm soapy water. If the filter is damaged or too dirty, it might be time to replace it with a new one.
Cleaning the Dehumidifier Air Vents
The air vents are crucial for proper air circulation and efficient moisture removal. If these vents become clogged with dust and debris, the dehumidifier's performance can be severely affected. Use a soft-bristled brush or a vacuum cleaner with a brush attachment to remove dust from the air vents gently. Avoid using sharp objects that may damage the delicate fins.
Cleaning the Exterior Casing
While wiping down the exterior with warm soapy water is an excellent first step, for a more thorough cleaning, you can also use a spray bottle filled with a mixture of water and mild detergent. Spray the solution on the exterior surfaces and wipe them down with a clean cloth. This method is especially useful for removing stubborn stains or grime that may have accumulated over time.
Cleaning the Dehumidifier Filter Grill
In addition to the air filter, some dehumidifiers have a separate filter grill that covers the coils. This filter grill may also trap dust and dirt, hindering the dehumidifier's performance. To clean it, remove the filter grill and rinse it with warm water. Gently scrub any stubborn dirt with a soft brush before letting it dry completely.
Regular Cleaning for Optimal Performance
Regular cleaning is essential to keep your dehumidifier running at its best. In addition to the thorough cleaning process we've discussed, make it a habit to perform routine maintenance and checks ensuring everything is working correctly.
Check the Humidity Levels
Periodically check the humidity levels in your home using a hygrometer. Ideally, indoor humidity should be maintained between 30% to 50%. If you notice consistently high humidity levels even when the dehumidifier is running, it may indicate a problem with the appliance or the room's insulation.
Always refer to the manufacturer's user manual for specific instructions on how to clean and maintain your dehumidifier. Each model may have unique features and components that require particular care. Following the manual will ensure you're cleaning your dehumidifier correctly and safely.
Regularly Clean the Dehumidifier Filter
The air filter is one of the most critical components of a dehumidifier. To maintain its efficiency, clean the filter at least once every two weeks or as recommended by the manufacturer. A dirty filter not only reduces the appliance's performance but also increases energy consumption.
Schedule Regular Maintenance
Consider scheduling regular maintenance for your dehumidifier, especially if you use it extensively or live in an area with high humidity levels. Professional maintenance can ensure that all parts of the dehumidifier are in optimal condition and prevent potential issues from developing.
Conclusion
Cleaning your whole house or portable dehumidifier is a straightforward process that goes a long way in ensuring optimal performance and a healthy living environment. By following the steps outlined in this guide and incorporating the additional tips, you can keep your dehumidifier running efficiently and prolong its lifespan. Regular cleaning, maintenance, and checks will help you prevent water damage, mould growth, and other potential issues, providing you with a comfortable and safe living space.