How Much To Start A Carpet Cleaning Business
Starting A Carpet And Upholstery Cleaning Business
ENJOY 6% FINANCE ON PEX 500 "THE BEST" PORTABLE CARPET EXTRACTOR!
For a Limited Time, we're offering 6% Finance on Pex 500 Carpet Extractor to make it Easier for you to start your new business. Applying Finance is Easy & Fast. It takes less than 5 minutes to complete the application. You'll generally receive a decision within 24 hours.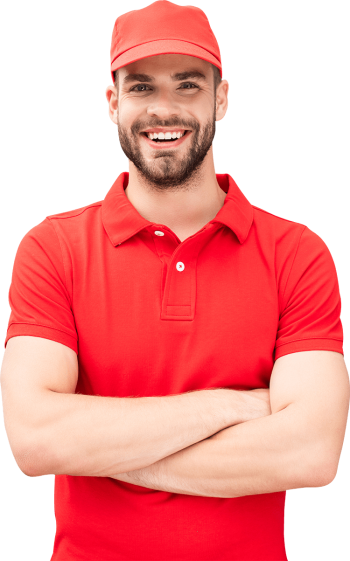 No Deposit, Nothing To Pay Today
FINANCE
Approval WITHIN 24 HOURS
Get The Equipment you need today!

*This offer is subject to finance approval
YOUR CARPET & TILE CLEANING START UP PACKAGE GETS YOU GOING
WHAT COMES WITH THE PACKAGE:
Pex 500 Carpet Cleaning Machine
1.5" x 13" Evolution Carpet Cleaning Wand with 2 Jets
Rotovac 360i Triple Jet Carpet Cleaning Powerhead 12″
Rotovac 360i Tile and Grout Cleaning Brush Head 12″
Vacuum Hose & Solution Hose Assembly 1.5″ 7.5m
PMF 3.5″ Internal Spray Upholstery Tool with Clear Head
Carpet Rake
Power Lead
Chemical Start Up-Kit
Comprehensive User Manual
Equipment Training (subject to location)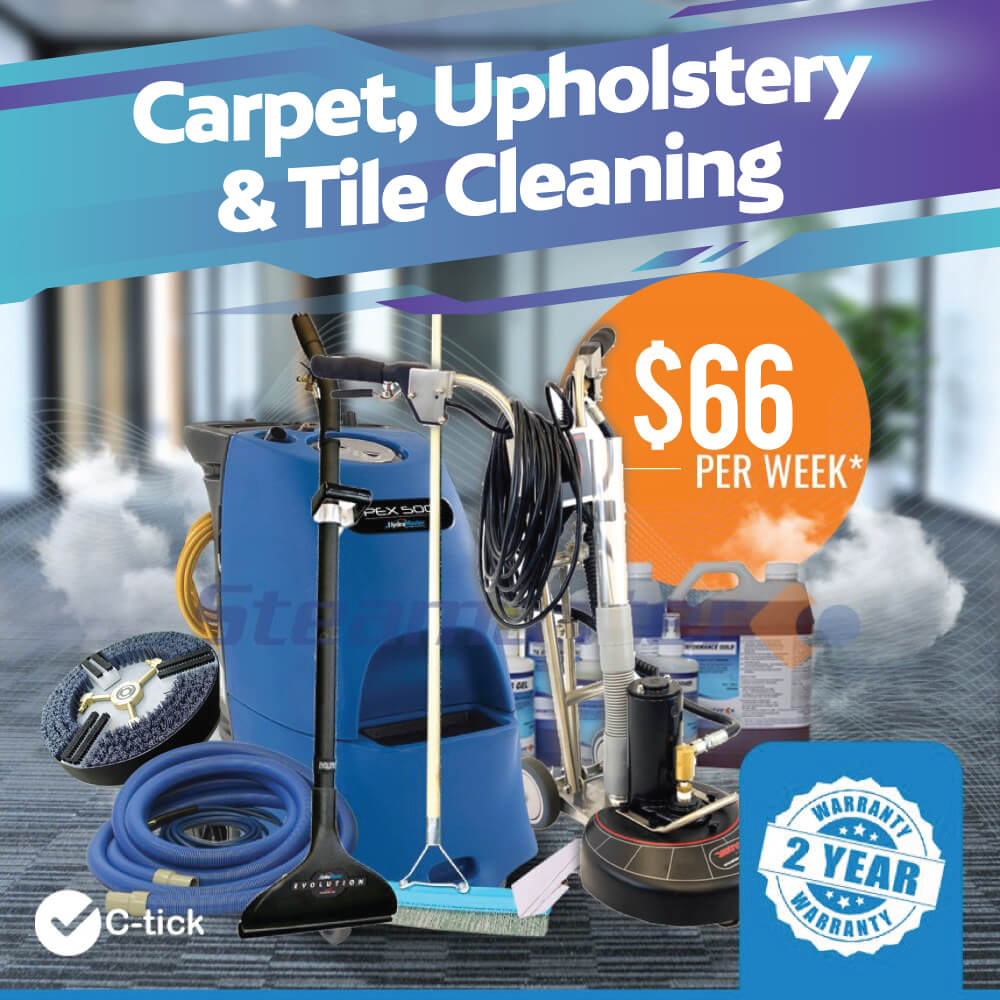 START MAKING MONEY
RIGHT AWAY!
It's "money-season" for carpet cleaners – so NOW'S the time to be investing in "your business".
By having the Pex 500, you'll be able to do a better job FASTER, allowing you to take on MORE jobs!
Considered as being the best carpet cleaning machine on the market, the Pex 500 Carpet extractor is perfect for medium to large carpet & upholstery cleaning.
If you're looking for "the supreme package" with all the bells & whistles, STOP LOOKING – you've found it!
This is the Rolls Royce of carpet cleaning packages – containing a portable carpet cleaning machine, 7.5 metres of vacuum & solution hoses & a 2 jet stainless steel carpet cleaning wand.

HERE'S WHY CARPET CLEANERS LOVE THIS MACHINE!
One of the LIGHTEST 500 PSI commercial carpet extractors
One of the MOST POWERFUL 500 PSI commercial carpet extractors
The QUIETEST machine in its class
The BEST carpet extractor money can buy
Most machines come with a 1 year Warranty - Pex 500 has a 2 Year Warranty
CHECK OUT THESE INCREDIBLE COMMERCIAL CARPET CLEANING EQUIPMENT START UP PACKAGES
See What Other Carpet Cleaners Say About The Pex 500
"Just thought I would let you know that I used the Pex 500 extensively over 2 nights in a commercial setting and found it works very good – especially having the instant heater. Easy to carry all necessary items in one go."
Murray Brass
Bennetts Services
"I already have one Pex 500 that's 6 years old, and needed a new one for extra work. It has plenty of features, constant hot water, easily transportable. I just really like this machine."
Kerry Houghton
Jim's Carpet Cleaning (Lake Macquarie)
"Nothing beats the Pex 500, very reliable and easy to use and very light for a Portable Machine… we have never had any mechanical issues with it since we purchased it 4 years ago. The best point about the Pex 500 is easily the practicality of it. You can pack everything on the machine without straining yourself and still carry it up three stories. Because it's light and instant heat is very good too."
Chris Player
Green-Steam Carpet Clean
As part of our equipment package, you'll get access to "expert training" from Col Nation, Australia's leading "carpet cleaning" guru.
Col holds online training courses, where you'll learn HOW to become "an expert" yourself – in carpet cleaning, upholstery cleaning, leather cleaning & advanced stain removal.
Remember, when you can promote yourself as "an expert", your prices can be HIGHER, because most people expect to pay more for "expertise".
So we are going to show you HOW TO CHARGE MORE for your services.
TRAINING VIDEOS
on 'How to Become an Expert' in carpet cleaning, upholstery cleaning, leather & advanced stain removal.
FREE ACCESS TO STEAMASTER ACADEMY
LIFETIME TECHNICAL SUPPORT
MARKETING BLUEPRINT
Our Marketing Blueprint provides you with access to all sorts of advertising templates including Facebook ads, radio ads, press and brochure templates – and much more.
Rating and Reviews


STEAMASTER Australia


Reviewed by Mark Symons on
.
STEAMASTER Australia

Steamaster is fantastic. Bought a big kit from them as a small business, works great. They are very knowledgeable, quick to fix any problems and have solution. Special thanks to Duy, quick replys and answers about products and equipments.



Rating: 5
How To Start A Carpet Business – How To Build A Carpet Cleaning Business – Buying A Carpet Cleaning Business.
Hi, welcome to Steamaster and you're here because you might be the owner of a general cleaning company, but you're thinking about expanding into carpet cleaning. Well, congratulations for thinking that way, because I'd say just about every home and just about every business, as in offices and warehouses and so forth have carpet.
This is an industry that's not going to go away in a hurry. There will always the need for carpet cleaners because we have carpet all around us, whether we're at home or whether we're at work. I've got a few notes here I just wanted to refer to, if you don't mind, in terms of highlighting to you the benefits of moving into carpet cleaning.
Being a general cleaning company, you've probably thought about this from time to time. Well, now's the time to actually do more than thinking about it, because we're going to help you get into carpet cleaning, like no other supplier. I want to run through a few things.
First of all, the market is huge because of what I've just said. I mean, every home and just about every office has carpet in it. The point is that you've got a very smooth transition into this. It's not like you're a car mechanic or you're a dentist, you've decided to get into carpet cleaning. It's a whole new mentality.
You are in cleaning anyway, so one would suspect that this is going to be a pretty smooth transition for you. The thing is too, is that when you are dealing with Steamaster, we're pretty confident that you're going to get the very, very best equipment. I know you would expect us to say that, but the fact is that we have been in the business for over 20 years.
We've formed relationships with manufacturers overseas who just deliver the best equipment each and every time. I mean, we're not silly, if we're going to import stuff from overseas, we make sure that we're dealing with the very best manufacturers. We also manufacture a lot of our equipment here in Australia.
The good news is for you, is that if we're manufacturing a whole bunch of our equipment here in Australia, and from time to time, you might need some accessories or parts, guess what, a very strong chance you're going to get them faster from us than from any other supplier. Because we're manufacturing a lot of our machinery and equipment here in Australia.
The other thing I do want to at you, is that the scope for carpet cleaning prospects, in other words prospects, clients, is really wide. Because you're talking about being able to not just zero in on home owner, but also think about at restaurants, and hotels, and cafes, and function rooms, and it goes on and on and on.
Think about just where carpets are, it's just about in every possible business and every possible industry you could think of. Therefore, the scope for you to, I guess exploit your new division, your new carpet cleaning division is absolutely wide. The other thing I wanted to holler at you is when you do get equipment from us, we give you some bonuses.
You've probably seen these perhaps elsewhere on this website. Very quickly, one bonus is that we give you complimentary membership at the Steamaster Academy, which essentially a library of templated marketing campaigns that you can just swipe and use to attract new clients to your carpet cleaning services.
You may be thinking, how much to start a carpet cleaning business? Click here to see our carpet cleaning equipment start-up packages.
We also give you video training of how to use the equipment, now that shouldn't be too hard for you, because obviously you've been in the cleaning game anyway. I think the transition across to using carpet cleaning equipment will be pretty simple for you.
If you are in the cleaning business at the moment, hopefully I've convinced you that the transition is going to be pretty smooth for you. Hopefully you give us the chance to becoming your supplier of equipment, chemicals, and accessories, look forward to hearing from you.