What's The Best Carpet Cleaner For Business
Starting a carpet cleaning business questions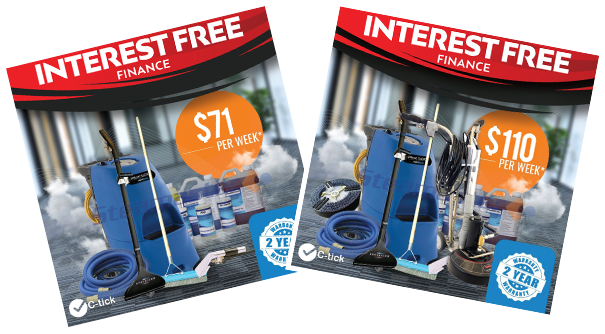 THE BEST PROFESSIONAL
CARPET UPHOLSTERY & TILE
CLEANING BUSINESS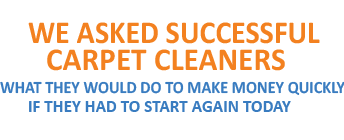 We do not SPAM. Your privacy is protected.
Tom: So Col, before we get into the truck mount side of things, how much money do you need to get started with the portable package? With everything you need?
Col: Okay, with everything you need you could probably spend $10,000. But you could actually buy a startup package; Tam's got them for about $6,000.
Tom: Right, okay. So $6,000 is all you need to get started. Obviously excluding any marketing or business costs?
Col: Mm-hmm (affirmative), yeah.
Tom: That can get you $150,000 working two jobs a day?
Col: Exactly right. You can do it with that equipment.
YOUR CARPET & TILE CLEANING START UP PACKAGE GETS YOU GOING
WHAT COMES WITH THE PACKAGE:
Pex 500 Carpet Cleaning Machine
1.5" x 13" Evolution Carpet Cleaning Wand with 2 Jets
Rotovac 360i Triple Jet Carpet Cleaning Powerhead 12″
Rotovac 360i Tile and Grout Cleaning Brush Head 12″
Vacuum Hose & Solution Hose Assembly 1.5″ 7.5m
PMF 3.5″ Internal Spray Upholstery Tool with Clear Head
Carpet Rake
Power Lead
Chemical Start Up-Kit
Comprehensive User Manual
Equipment Training (subject to location)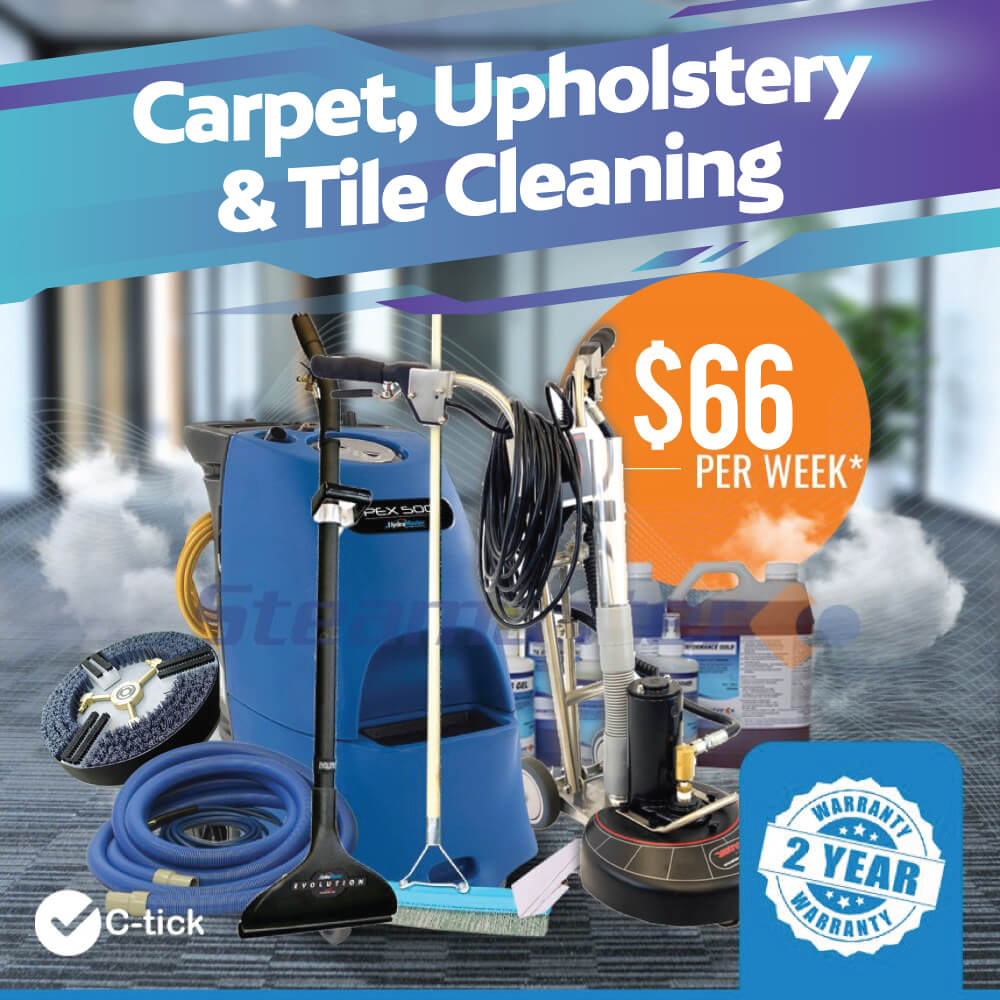 CHECK OUT THESE INCREDIBLE COMMERCIAL CARPET CLEANING EQUIPMENT START UP PACKAGES
ENJOY 6% INTEREST FINANCE ON EQUIPMENT
We know it's hard starting a NEW business – so we're happy to help with providing "LOW INTEREST FINANCE" to approved clients!! This way, you can "hit the ground running" without the stress of having to find money!!
At Steamaster, we try to think of every possible way to make things easier for you!
As part of our exclusive "Business In A Box" opportunity, you'll get access to "expert training" from Col Nation, Australia's leading "carpet cleaning" guru.
Col holds online training courses, where you'll learn HOW to become "an expert" yourself – in carpet cleaning, upholstery cleaning, leather cleaning & advanced stain removal.
Remember, when you can promote yourself as "an expert", your prices can be HIGHER, because most people expect to pay more for "expertise".
So we are going to show you HOW TO CHARGE MORE for your services.
Tom: With a $6,000 entry?
Col: Yeah.
Tom: I don't know many businesses that can do that. Obviously you've got to learn about the skills, you've got to learn how to clean it. Do you recommend you actually get training in-
Col: Yeah, training is essential. We've got some videos being done, and you'll see those on the website. That's a good place to start, but ideally you do need some good hands-on training as well.
Tom: Is it difficult to do? Like is it hard to learn the skills?
Col: Not really. Put the detergent on, get it back off again.
Tom: Okay. That sounds a lot simpler.
Col: Along with the dirt.
Tom: Yeah, exactly right.
You also mentioned truck mounts, earlier? There's a choice between portable machines and truck mount machines, is that right?
Col: Yeah, yeah. Portable machine of course plugs into the power system, and a truck mount of course is driven by either petrol or diesel engine.
Tom: Right, what are the pros and cons between the two of those?
Col: Okay, a truck mount has got a lot more power and can make the job a lot shorter. If you're way too busy for your portable machine, then it may be time to think about upgrading to a truck mount.
Tom: You're saying a truck mount you can get the job done quicker than a portable?
Col: Yes.
Tom: How much quicker, roughly?
Col: Probably about two-thirds of the time?
Tom: Right.
Col: Yeah, so a three hour job with a portable machine would take you only about two hours with a truck mount.
Tom: Okay, so you've got a bit of saving, you can get through more jobs quicker?
Col: Yeah.
Tom: But it sounds a bit more expensive than a portable machine?
Col: Yes. And your costs go up accordingly.
Tom: Right.
Col: Obviously the repayment costs of the machine, yep?
Tom: Yes, and of course you've got to pay for fuel.
Starting Carpet Cleaning A Good Business Questions
Are you ready to start your carpet cleaning business? Contact Steamaster today!
Rating and Reviews

STEAMASTER Australia


Reviewed by Mark Symons on
.
STEAMASTER Australia

Steamaster is fantastic. Bought a big kit from them as a small business, works great. They are very knowledgeable, quick to fix any problems and have solution. Special thanks to Duy, quick replys and answers about products and equipments.



Rating: 5