IMAGINE DOUBLING YOUR
CURRENT INCOME!
Earn $75 per hr Instead Of $35 per hr!!
If you're not offering "carpet cleaning services" at the moment, you're leaving money on the table.
Let's face it, when you consider how many homes and businesses in your trade area have "carpet," it's almost crazy not to provide carpet cleaning services!
At Steamaster, we have a track-record of assisting regular cleaners skyrocket their revenue by adding "carpet cleaning" to their services.
We know "carpet cleaning" backwards – and we are Australia's leading supplier of equipment, accessories and chemicals.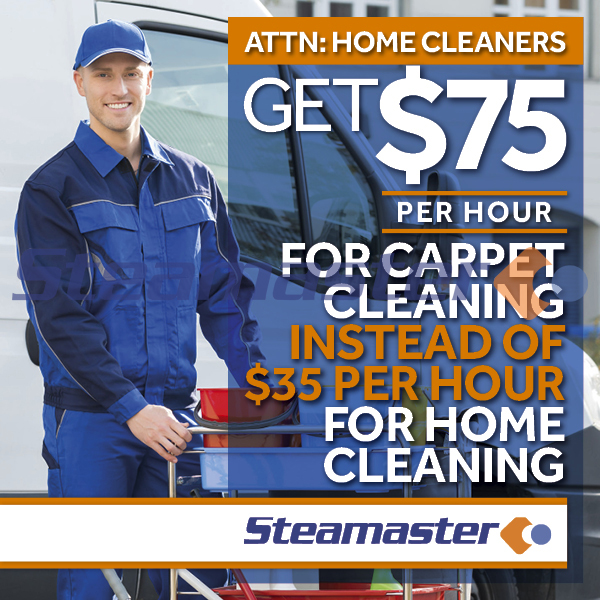 YOUR START-UP PACKAGE
GETS YOU GOING
VIRTUALLY STRAIGHTAWAY!
What Comes With The Equipment Package
Pex 500 with Continuous Flow Heater Carpet Extractor
1.5" x 13" Evolution Carpet Cleaning Wand with 2 Jets
Vacuum Hose & Solution Hose Assembly 1.5" 7.5m
PMF 3.5″ Internal Spray Upholstery Tool with Clear Head
Carpet Rake
Comprehensive User Manual
Equipment Training (subject to location)
Lifetime Technical Support – This means you can call us any day of the week if you need help.
Chemical Start-Up Kit (Chemical photos in the equipment package are for illustration purposes only)
$150 Carpet Cleaning Training Voucher
3 Month Free Access to Steamaster Academy
Instructional videos on 'How to Set Up', 'How to Use', and 'How to Maintain' the equipment
HERE'S WHY YOU SHOULD TALK TO US
As part of our exclusive "Business In A Box" opportunity, you'll get access to "expert training"from Col Nation, Australia's leading "carpet cleaning" guru.
Col holds weekend training events, where you'll learn HOW to become "an expert" yourself – in carpet cleaning, upholstery cleaning, leather cleaning & advanced stain removal.
Remember, when you can promote yourself as "an expert", your prices can be HIGHER, because most people expect to pay more for "expertise".
So WE are going to show you HOW TO CHARGE MORE for your services.
And we Even Show You HOW To Attract Lots Of Customers!
You Get FREE Customer Attraction Advertising Templates!
Our aim at Steamaster is to assist people like yourself in launching their own Carpet Cleaning Business.
Hence why you will receive complimentary membership of our Steamaster Academy upon becoming a client.
This resource gives you access to Training Videos and Marketing Templates for the likes of Facebook, letterbox brochures, web pages, direct mail letters and so forth.
In other words, not only can we provide you with the best prices for equipment and chemicals –but we also help you launch and build your business as well.
Your Training Videos will provide you with easy explanations of how to use our equipment – and of course you can always contact us for any further advice or assistance.
Our Marketing Blueprint provides you with access to all sorts of advertising templates, including Facebook ads, radio ads, press and brochure templates – and much more.
All you need to do is to add your name and contact details to these templates – and you're ready to rock and roll!
We are renowned for providing the best prices for equipment, accessories and chemicals – so rest assured that when you are a Steamaster client, you are being helped not only with training and marketing templates, but also with the best prices in Australia!
Steamaster has operated for 25 years and we proudly boast that we have the "very best equipment in the country".
How can we confidently say that?
Because we manufacture a lot of our equipment here in Australia and ensure that it meets the quality levels that you would expect.
"THE 3 EASY STEPS FOR A HOME CLEANER TO ADD CARPET CLEANING TO THE BUSINESS!
If you're STILL not totally convinced that you should start your very own Carpet cleaning business, check out this FREE REPORT that covers the 3 EASY STEPS & why you should seriously consider it!